Part of our job is explaining to small and medium-sized businesses why writing blog posts and articles helps SEO. But since you're reading this, chances are you already know the long-term benefits of targeting keywords for reaching your audience.
If you're a business that thrives on leads and has the capacity to scale over time, SEO is a great choice. Yes, it does take time (one of our latest clients found their traffic growing by x 3000 after the first year). If you need immediate results, go with paid ads. But you can't ignore SEO either- your competition probably isn't! It's an investment in your future and you want it done right from the start.
How to post regular articles for your business
Do it yourself and find SEO writers online.
One way to go about sourcing articles and blog posts is to find a resource online, through Upwork or another freelancing platform. The benefits are that the articles tend to be pretty inexpensive. However, ask anyone who has sourced their own articles, and that low price comes with low quality. English may not be their native language, the voice of the article may not match your brand, and the content and the length of the article probably doesn't have what it takes to rank. If you're in a small industry with little competition, this could work for you. However, if your competition is paying for SEO and you're trying to compete, you won't be ranking with 300 word posts. Another problem with getting SEO articles on the cheap is their response time. 
Add to that the time it takes to connect with the writer, learn the Upwork platform, and you might feel experated before you even get your first article.
Then what happens after you receive the article? If you know WordPress or the backend of your website, you can add the article yourself. But for the average business person, it's hard to get everything set up correctly for SEO. Tasks like naming images and giving them Alt text, using the correct Headers tag, and setting up schema are really important to sending search engines the right message.
A recent client came to us because their writer from UpWork was taking weeks to implement their requested changes.
Work with a Professional SEO Writing Company- LIke us!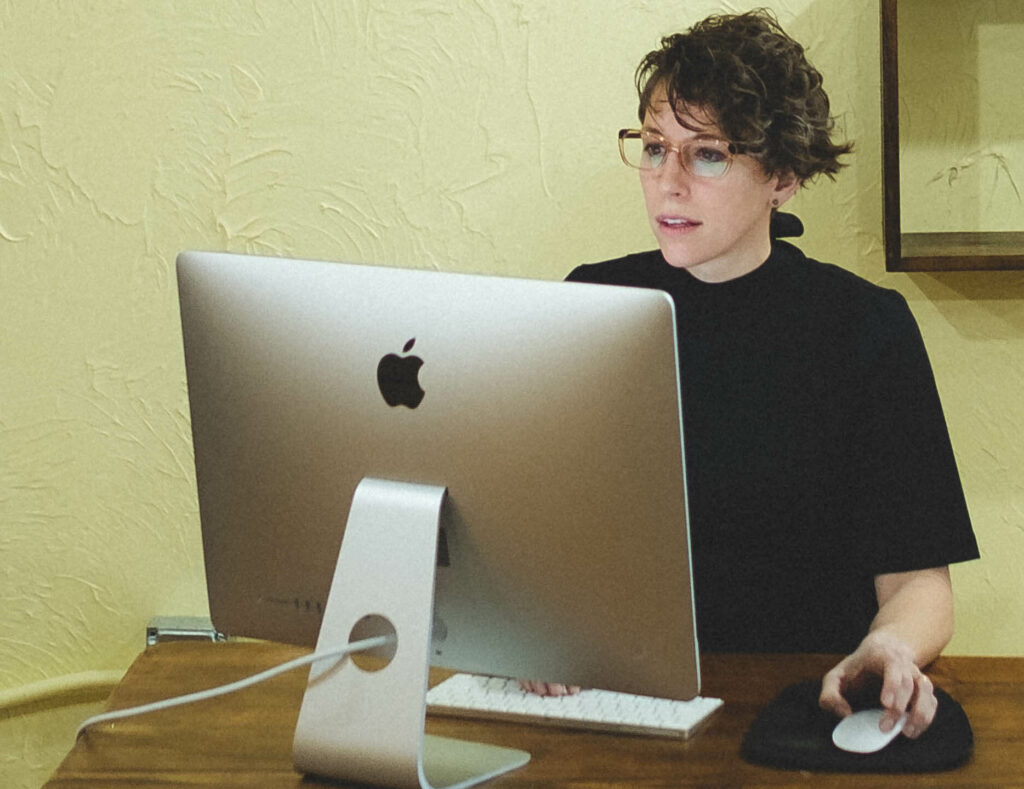 We provide quality blog posts and article ghostwriting paired with top-notch communication skills. We'll keep you updated just enough to ease your mind without being in your hair.
What makes our article writing so great for SEO?
We use industry-standard on-page SEO guidelines to give your page a better chance of ranking.
OUR services don't stop at ghostwriting articles.
We're not going to leave you with a well-written blog post that you just copy-paste into your CMS. It's a great start, but you want to do this 100%! We add your blog post onto your site and make all the tweaks it needs to help it rank. This includes:
Title- this tells Google you're relevant and your audience to click.

Meta Description- people will pass you by or click based on this text.

Permalink- your links should contain keywords, but be concise!

Images- optimized file names, titles, and Alt text for SEO and accessibility

Heading tags- your information is already nicely organized. Let Google know!

Schema- tag your content correctly to increase your visibility in categories like articles, blogs, FAQs, local businesses, people, recipes, and more.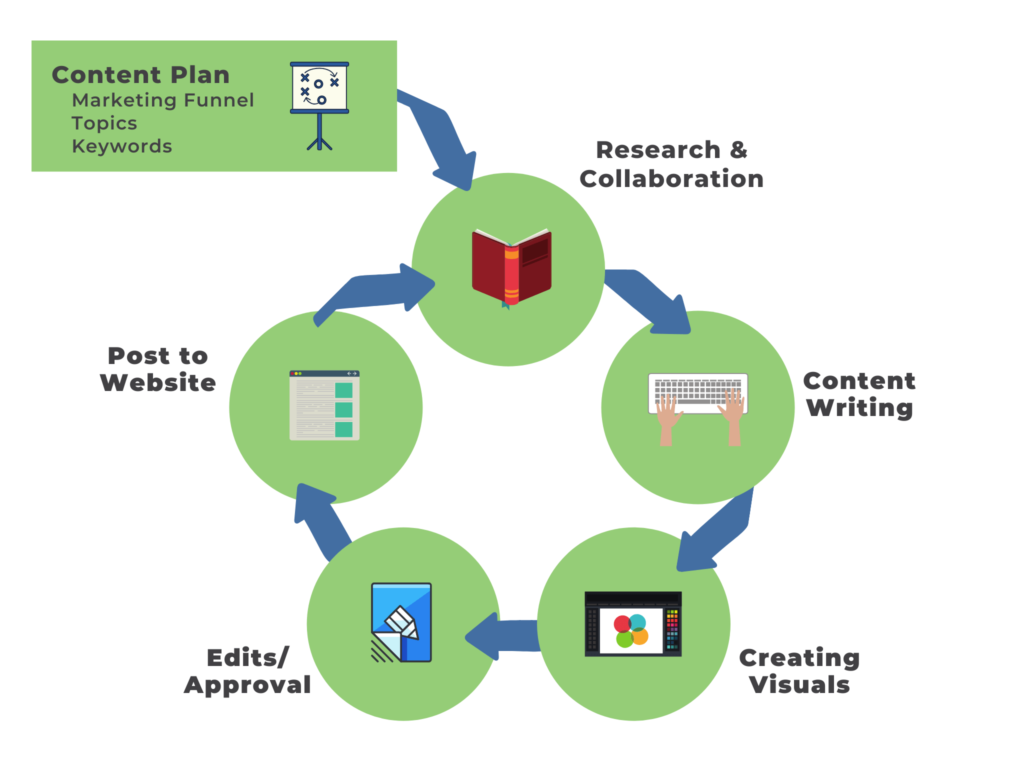 Visual Content is Important for SEO too!
Did you know that Google measures how long visitors stay on your page? By offering up every tidbit of information you have about a topic, your readers will value your knowledge and stick around to read it. Written content is the first step, but a wall of text gets boring. By adding images, charts, videos, or infographics, you're giving users multiple ways to experience what you have to offer.
You can add on a custom piece of visual content that best fits the post's keywords. Maybe a well-designed chart would help you get your point across. An infographic is another great way to convey information in a visual way. Our designers produce one piece of visual content with each SEO article we add to your site.
My biggest strength is as a "helper" and the job that got me into this industry was as a Virtual Assistant for the CEO of an agency. I know how busy you are, and I also know that your expertise is important in the articles I write. For clients who like to provide it, I ask for input such as their client stories that illustrate a point, further explanation of a detailed topic, or edits to my work. I accept feedback in the way that works best for you- whether that's via email, in a voice recording, or in Google docs comments. Your content will be personalized and you'll connect with your audience on a much deeper level. This is optional, but I've seen this business owner collaboration lead to really engaging blog posts in the past.
Frequently Asked Questions About Our SEO Package
How soon will you see results from SEO content writing and blog posts?
SEO is tough because Google gives certain advice about ranking, but their algorithm is consistently changing to better serve their searchers. That's why great content is so important- if your website visitors are happy, Google will be happy. Once an article is published, it becomes available once your site is crawled again (which we can ask Google to do immediately). Some people say it takes articles 3 or more months to rank, but it all depends on your competition and the quality of your post. If you're looking into SEO services, you're probably aware of the long-term game you're playing. Site traffic will continue to grow over the next few years as other sites link to you and Google sees your content as a resource for searchers.
What topics should be covered when writing articles for SEO?
First and foremost, you should have articles that explain in-depth the products or services you offer your customers. You'll be showing off your expertise and become a trustworthy voice for potential customers. 
In the marketing funnel, this covers the education or nurturing stage. Customers who know they have a problem and have found your site can be convinced that you're the solution. If you own a sports complex, education is easy- writing about the different leagues, sports, or classes you offer.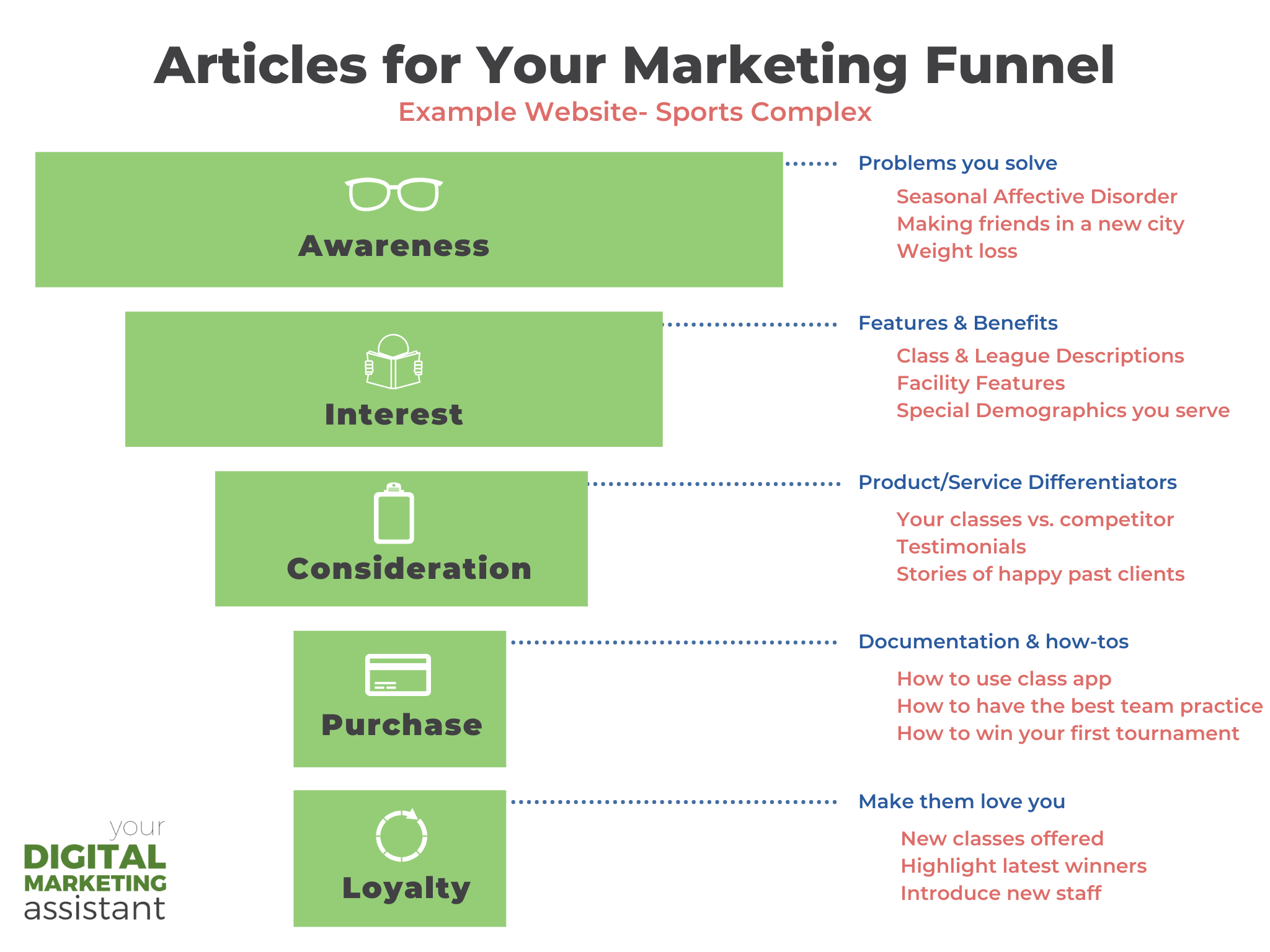 After this first round of posts are complete, you'll want to focus on other stages of your funnel. What about people who don't even know that your solution to their problem exists? 
For awareness, we'll ask what problems people are facing that you'd be a great solution for. In the sports complex example, people could be searching for information on Seasonal Affective Disorder. By publishing an article focused around this topic, you can offer suggestions and include your services as a solution. Many people wouldn't think of playing basketball once a week as a solution, but the physical exercise and socialization involved might be exactly what they're looking for.
When you sign a 1 year contract, we provide a deep dive and content plan strategy to reach visitors at every stage of the funnel.
Who is this SEO Blog Package for?
We recognize that this service isn't for everyone. It's our goal to provide a valuable service, executed really well, and that means targeting a certain type of business owner or manager. We've designed this SEO Blog Post Package for businesses that
See the long-term value in inbound marketing efforts like SEO, articles, and blog posts

Are aware of or interested in the different stages in the marketing funnel and how they relate to their target audience

Are trying to bridge the gap between hiring in-house marketing staff and doing it all themselves
End-to-End SEO Article Package
2 articles per month that include:
1000+ words or more
Collaboration with you to provide details, personalization, and edits
Featured Image and 2 other images sourced from free stock sites
Posted to your CMS with optimization best practices
Submission to Google Search Console
Free Content Plan with 1 year contract
WordPress Reporting Dashboard
If your website didn't come monthly reporting, you'll want to see your SEO results. This includes setting up Google Analytics, Google Tag manager if necessary, Google Search Console, and creating a date-filterable Reporting Dashboard just for you.
For clients who want better branded images (price per image)
One piece of custom visual content- chart, infographic, or diagram made with your brand specifications
Social Media Post Content
Social media posts with every article, image and text included for 3 channels (price per article)
3 "pinnable" images that make it easy for your audience to share your topic on Pinterest (price per article)