Lots of business owners we talk to have small side hustles that can't yet support a full blown website development.
We've created the $50/month website setup with the basics a business needs to be seen online, without the huge upfront cost.
What does the package include?
Sounds like the perfect price, but what's the catch?
We use free tools from Google to get your website set up. It's a simple design, with little room for customization. There are just a few options for fonts, colors, and layout. That being said, it's exactly what a startup or small side business needs. It puts you on the map without thousands of dollars in website development fees.
What's the story behind what's included?
After talking with local business owners and seeing what they need to get started, this package covers the basics.
Website Setup- This allows you to show that you're trustworthy to potential customers who are searching for you.
Custom Domain- This too shows your customers that you're a professional.
Business Email Address- Your customers don't trust people with @gmail.com addresses on their business cards. Show your customers that you're profitable and experienced enough to invest in the right tools for your business.
Google My Business (GMB) Account- This listing service helps you get on the literal map when locals search for your services. When it's done right, you can rank above big competitors because you provided Google with the right information.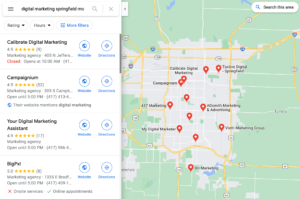 Posting Access– when everything is set up, we'll give you access and a video to show you exactly how to post. It helps your Google My Business listing stay relevant and make customers want to click. The posts also show up on your website.
We ask that you keep your website up for 6 months so you can see the difference it makes. After that everything is month-to-month, and you can cancel for the next month anytime.
Add on logo design and business cards
If you don't yet have a logo or business cards, we offer this service for a one-time add-on price of $250.
You'll get a great looking custom logo for use on your website, social media, and print material. Plus a 100 pack of business cards to get you going.